Reviewed by: marvelousmegan  on:

2020/5/25 17:23:14

This food was disgusting. How do you serve hot sushi that is supposed to be cold and cold hibachi? And charge the prices you do? No customer service!!! The guy I spoke to on the phone was extremely rude!!!

Reviewed by: rphillipbrooker  on:

2020/1/11 13:07:46

Our first time did not go so well. We ordered one vegetable roll and one salmon roll. After 40 minutes we had not received our order. We did notice that other customers at about 4 or 5 tables who ordered after us received there food. Very poor service. So we left without getting to eat.

Reviewed by: jim.coupland  on:

2016-06-13T13:40:09

Does the localflavor.com $10 for $20 coupon also apply to the 280 location?

Reviewed by: michelle.fecik  on:

2016-04-28T19:30:55

Hello - I have eaten at your restaurant and enjoyed it, so I am reaching out to see if you would be interested in placing an advertisement in the 2016-17 Oak Mountain High School Athletic program. This personalized advertisement with your business information will be displaced in the Athletic program booklet for thousands of families not only in Oak Mountain area but other communities throughout metro Birmingham who attend OMHS football games. The cost is as low as $100 for a quarter page ad or $250 for a 1/2 page color or $250 for a full page black and white. Please feel free to reach me at Michelle.Fecik@lexisnexis.com or 205.356.0102. Thank you.

Reviewed by: Sylvia01  on:

2016-04-11T01:54:48

Dear Sir and Madam,Good day! I am Sylvia from NKW plastic company. NKW plastic co.Ltd is one of the leading manufacturing groups of food packaging products in China. With advanced automatic machinery and years of experience know-how in the plastic thermoforming industry, NKW supplies packaging solutions for a wide range of food service products mainly in PS, PET, PP,. As aprofessional manufacturer of food packaging products, such like sushi containers, party trays, lunch boxes, soup bowl ,salad container etc with multiple specification and unique artworks.Besides we have been exporting our quality products all round the world, especially in Europe, USA, Canada, Japan, and Southeast Asia markets with certificates of ISO9001, SGS, FDA, ROSS...We would like to present you our newest products for you, and send you some popular items pictures, and we guarantee we offer the best bottom price for you, if you need us to send some samples for reviewing, please kindly contact us and we will good service for the business. Sincerely hope can hear from you and start a next step cooperation, NKW provides innovative, value-added products with the highest standards of quality and service.Have a nice day!Thanks and Best Regards,Sylvia LR(Sale manager)Shenzhen NKW Plastic Co., Ltd.Add: Rm. 26C, Building B, Reith International, No. 1002, North Yanhe Rd., Luohu Dist., Shenzhen.Tel: 0755-22907023/25848441Email:Sylvia01@nkwplastic.comWebsite: www.nkwplastic.com Alibaba website:nkwplastic.en.alibaba.com

Reviewed by: hwest  on:

2016-03-24T09:59:46

On April 8th, the Treehouse Early Learning Center at Oak Mountain Presbyterian Church will be hosting our annual Night at the Treehouse event. A large portion of our evening is a silent auction where our parents bid on items that have been donated by local businesses such as yours. We use these funds to purchase necessary learning tools, books, and other resources to promote an age appropriate learning environment for children ages 1-5. Thank you, in advance, for your support of our program. Our Tax ID number is 63-1077273.If you have any questions, please contact me at 981-4330. Helen West

Reviewed by: alfloyd  on:

2016-03-04T04:58:06

Hi, I'm writing to see if you have an alcohol license yet. We really enjoyed the food the last time we were there but would love to have a glass of wine or sake on our next visit, so we're waiting to come back until you have the license.

Reviewed by: ellen.rao  on:

2016-03-02T22:59:49

Thanks?for?your?kindness.I sincerely look through your website, know you are on the market of Japan RestaurantWe?are?specialized?in?plastic food?container?for?take?away?,?like?sushi?plate,?sushi?party?tray,?bento?box,?plastic?bowl, sauce?bottle.?before?our?customers?were?most?from?Japan?and?Korean?with?the?certificates?of?ISO9001,?SGS,?FDA,?ROSS,etc.?And?now?we also would?like?to?cooperate?with?more?other?country?customers.?This?is?our?website?http://nkwplastic.en.alibaba.com?/?http://www.nkwplastic.com/After looking?through?our?website,?If you have interest?in?our?website?product,?we?can?provide?our?customer?with?free sample.Warm?regards

Reviewed by: jennifer.allen  on:

2015-12-21T13:39:43

Hi my name is JJ Allen with The Rick and Bubba Show. Who is in charge of your marketing? Thanks JJ

Reviewed by: mandybouchet  on:

2015-12-18T11:40:29

With the exception of the "A la carte" section, I did not see where you specified number of pieces per order. How many pieces per "roll"?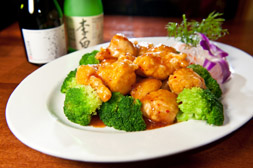 Address:
601 Doug Baker Blvd Ste 101
 Birmingham, AL 35242
Phone:
205-968-1588
Fax:
205-637-1146
Website:
http://sushivillageal.com